The complexity of the American sales tax system comes to simplsaver, meaning you can get a good estimate of your costs if you live in the USA, too.
Fun fact: the creator of simplsaver may well be Australian, but he grew up in America. He spent a few years in California and another few in Texas, going to K6, middle school, and a bit of high school before coming back to Australia.
Because of this, he's made a lot of friends in both places, and keeps in touch with all of them. Much like people in Australia, some of them are having financial problems and trying to work out what their budgets look like.
That's an area simplsaver can help, but not without a few changes.
America has a complex sales tax system that affects how you spend money, and services with preset pricing — such as Netflix and Spotify — can change the amount you get charged based on where you live. Sales tax in America typically starts at the state level, but it can see different costs based on post code (zip code), as well, making sales tax a very local thing.
Understandably, this can make calculating sales tax incredibly complex, which can also make understanding how much you spend even more frustrating. Services with a fixed national price will charge you the fixed price plus the sales tax for where ever you live, which is a different mechanic to how GST works in Australia where the national price is inclusive of one sales tax standard applied nationwide.
This level of complexity meant we couldn't release simplsaver at the same time as everywhere else, and have instead needed to come up with a solution that made sense for folks in America, but could also retain the logic of being simple.
Everything we've made simplsaver for is about budgeting made easy and fast, and so even though we've needed to come up with something a touch complex, retaining the simplicity in our name is incredibly important.
Fortunately, we think we have something.
Presets and estimations
When iPhones set to a region of the United States load simplsaver for the first time, their "Add Cost" screen will let them know the sales tax is zero (which is fine in some states), and that they can head to settings and make some changes.
If you know where you live, you can change the state and your sales tax should reflect the state tax, which will be applied to the next costs you add.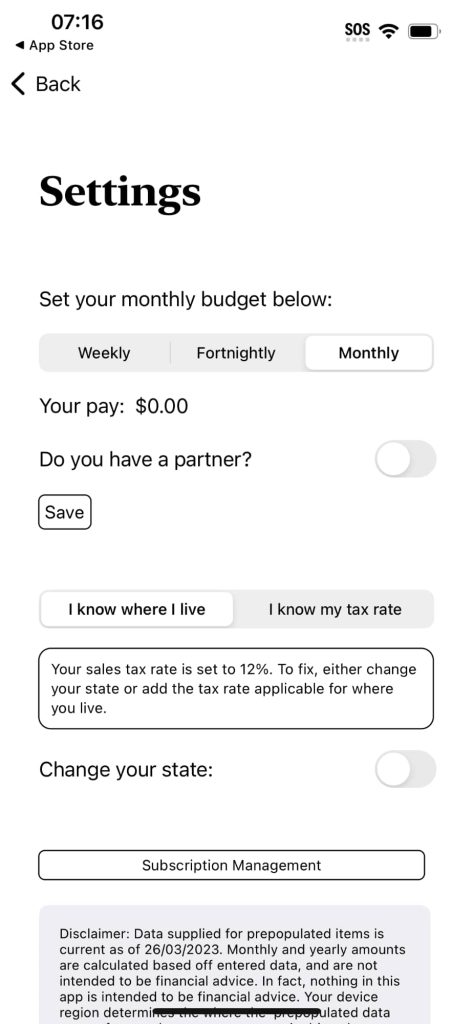 Alternatively, you can change your sales tax to what it would be where you live, typing in your sales tax directly into the app.
In short, we have two ways of working out sales tax, which will be applied to any costs added after the sales tax has been changed.
American services and prices
While the sales tax dilemma was one part of the equation, so too is adding services and costs for American customers. That's one of the ways we've made it possible to build a fast budget, and it can help you understand how much money you spend on services.
We probably still have a ways to go — there are a lot of services in America! — but we've added some of the more popular ones you can't find outside the country, including HBO Max and Hulu, with service prices changing for the US, as well.
You can also add the costs of other services we don't have, simply by selecting "Custom" in the categories. Enter the name, the monthly or yearly cost, and any notes, and simplsaver will add it like any other cost.
In the case of "Music Services" (like Spotify and Apple Music), "Video Services" (like Netflix and Hulu), "Fitness Services" (like Fitbit and Peleton), and "Gaming Services" (like PlayStation and Xbox), we're just filling in those details for you to make things faster and easier.

Add your salary and simplsaver works out your budget
Once you've filled in your costs, or even somewhat of the way through, you can head to the settings screen and add your weekly, fortnightly, or monthly salary for yourself, or even yourself and a partner.
In either case, you'll get a note on your list showing you how much money you have left once all these costs have been taken out.
It's that simple.
Only on your phone
It's also private, too, stored entirely on your phone.
While some budget apps are free with the caveat that you share your financial data with them, we don't use that philosophy. Rather, we charge 6.99 a year, which is the equivalent of buying its creator a drink once a year. Less, even, given a beer can cost ten bucks, and a cocktail can hit into the 20 to 30 dollar range.
In an era where data breaches are all too common, simplsaver opts to keep your data on your phone. You don't need to share it with anyone.
Available on the iOS App Store now
Simplsaver is available now on the American App Store, joining its releases in Australia at the beginning of the year, New Zealand shortly after, and the UK more recently.
It's free to download and try, with those first five costs a good taste to what the app can do, and you can do a lot in five costs. You can quickly get a taste of how much your service addiction is costing you, or find out how much your first home will cost you beyond mortgage repayments.
Outside of this, let us know of some changes we may or may not need! We'd love to hear your thoughts, either at the simplsaver Facebook page or at Product Hunt, and if you want us to add more services, send us an email and we'll see what we can do!