Our furry humans are clearly a part of the family, but do you know how much you spend on them? And are your pets part of your budget?
There are plenty of runaways costs in our budgets that we don't think about, from how much you spend on entertainment services to the regular coffee at work and the cheeky pint of beer.
But one area might surprise you, particularly if you have a family member that isn't a child, but you still kind of treat like one.
Pets.
Our surrogate children covered in fur or feathers, and friendly at all times of the day, particularly when it's cold outside or they're hungry, pets account for some of what's in our budget, with regular spends you may not be thinking about.
Depending on the animal that you share your life with, you may be making a regular spend on:
Food
Treats
Toys and accessories
Litter and/or bags
Shampoo
Flea and worm treatments
Grooming
Pet insurance
Every one of these can add up, and understandably, that can make a dent on your budget and amount to some serious dollars.
Average pet costs in Australia
We'd never suggest spending less on your animal, but if you have one, being aware of how much you need to spend may help you understand what you're spending on, and where you can reduce spend in other areas.
For instance, a look at the category back in 2021 suggested dog spending could hit over $3000 per year on average in Australia, with cat spending not far from that figure, either.
Animal Care Australia's analysis of the category brings the costs down to a more reasonable $1400-$2200 per household, but either way, the costs of our furry friends can seriously add up taking a noticeable hit to your budget.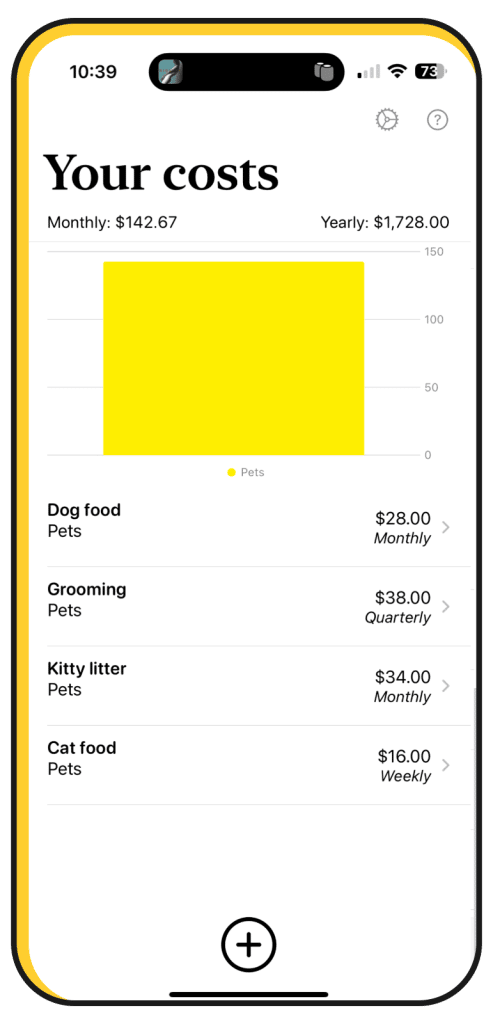 Be aware of those costs
While you more than likely won't compromise on the costs of having a pet, nor really should you — they're a part of your family and pets are for life! — being aware of pet costs is an important way to ensure you know where your money goes.
Everything matters in a budget, particularly even costs are rising and you're trying to get a hold on just where those dollar bucks are going.
That's why we've added a "Pets" category to simplsaver to help you account for any regular pet costs you might be making.
Much like how you can build a budget in a minute, the pets category is easy to use: throw in the regular pet expenses you might have, account for the period you would use them.
If your dog or cat has a regular grooming session every month, throw that in. If you can more or less bank that they'll see the vet for something once a year, you can factor that in with a yearly cost.
The pet cost we're always thinking about is food, with simplsaver's developer dog Maisie the Beaglier churning through around $30 of food per month by herself, before she ends up looking all cute and innocent for the kids, and taking their food, too.
Just like all things, pet costs will add up, but being aware of what they are could just give you a better understanding of your budget in the end.